https://www.haytap.org/tr/bb-not-doing-enough-for-horses-on-stanbul-islands

İBB Not Doing Enough For Horses On İstanbul islands ( until 2020)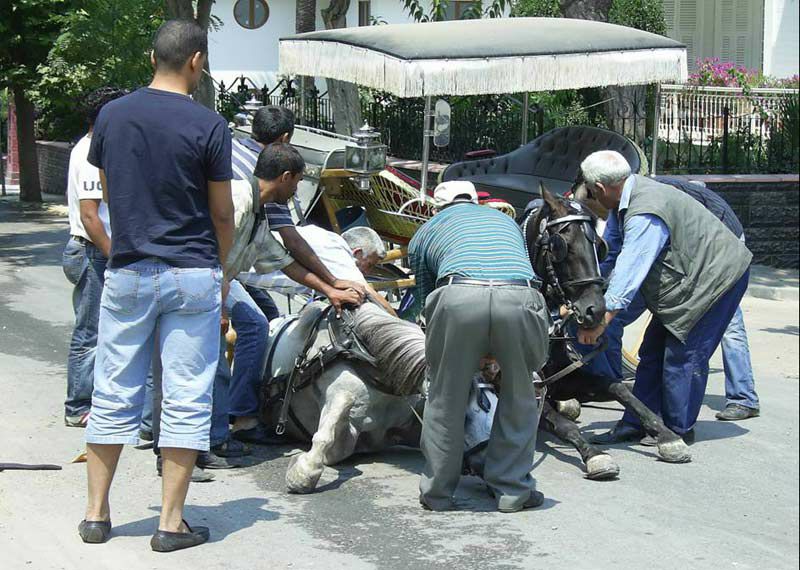 İstanbul's Princes' Islands are a popular weekend spot for many residents as well as tourists, but they have also long been the source of a large number of complaints -- both according to municipalities and animal rights groups -- about the systematic and conspicuous abuse of the horses that pull carriages on some of the islands.
There are no exact figures on complaints from citizens made to the İstanbul Metropolitan Municipality (İBB) on the ill-treatment of the horses, but officials have confirmed that the number is significant. Animal rights groups tell Sunday's Zaman they get hundreds of letters from witnesses, seeing carriage horses that are worked too hard collapsing under the simmering sun. The carriage drivers are often impatient with these animals, which are often kicked to get back up as they squirm on the ground in agony. It is a widely discussed and controversial issue in İstanbul, yet there are still people who use the carriages, despite campaigns against using them and the maltreatment of the equines, especially on Büyükada, often being witnessed by visitors.
Horse carriages on the islands fall under the responsibility of the İBB's transportation coordination center UKOME.
İBB needs cruelty to build case
It is a problem that can be overcome with the enforcement of animal protection regulations and serious oversight, but those who are responsible -- namely the İBB -- have been lying to citizens about their responsibility over the horse carriage business. This is because, some activists allege, the İBB is deliberately letting the animals suffer in front of island visitors so that there will be a stronger backlash against the carriages to justify its ultimate aim of getting rid of them for good. UKOME recently tried to introduce electric carriages to the islands, but there is a pending court case regarding their fate.
Echoing many other activists Sunday's Zaman has talked to, island resident Ayşen Ertur says she believes that the İBB and UKOME are purposefully hoping the situation will get worse, to the extent that "people will cry 'enough!'" Ertur continues: "And then they will introduce motor vehicles to the islands -- the only district in the whole of İstanbul where people can enjoy clean air and where urban development is minimal." She says this is due to protection rules for the islands, but also to the fact that accessing some parts of the islands isn't easy. This is a very valid concern. The difficulty of accessibility is an important advantage if one is trying to protect trees when taking on the İBB, a municipality which has managed to allow 470 empty plots, green spaces and parks in İstanbul reserved for post-earthquake management to be turned into shopping malls and luxury housing within just 10 years. According to this theory, which is backed by many others, the only intention of the İBB is to convince everyone that the carriages have to go.
Lying about responsibility
Regardless of whether or not its willingness to do away with the carriages is just a ruse to get its hands on the islands and İstanbul's last remaining green areas, the İBB makes it clear that involvement from ordinary citizens is unwelcome in official correspondence. In response to official queries about reports on the islands of specific horse cruelty incidents -- not from a journalist but those from ordinary citizens -- the İBB, referring to an irrelevant regulation on farm animals, says the Ministry of Agriculture is in charge of the island horses. However, members of the Animal Rights Federation (HAYTAP), other rights group and individuals who have been trying to end the abuse on the islands, refer to other regulations, in addition to countless meetings they have had with İBB officials. İBB Mayor Kadir Topbaş has a video online where he says he will "solve the situation" on the islands. Island Municipality officials say their hands are tied according to the law, and many plans they have suggested to the İBB have been ignored. In addition to all this, there is currently a court case launched by a carriage owner against an UKOME attempt to decrease the number of carriages to introduce electric carriages in their stead.
Facts about the islands
UKOME's plan to end the use of carriages on the island is backed by HAYTAP and many other animal rights activists. Apparently, the İBB has managed to convince all that the situation of the animals is beyond help, and no improvements can be made. However, there is absolutely no logical reason why the municipality can't simply set new carriage operation rules and oversee that they are obeyed.
For one thing, there are not too many carriages. There are no carriages on Kınalı and Sedef and there are about 15 carriages on Burgaz and 15 on Heybeliada. The real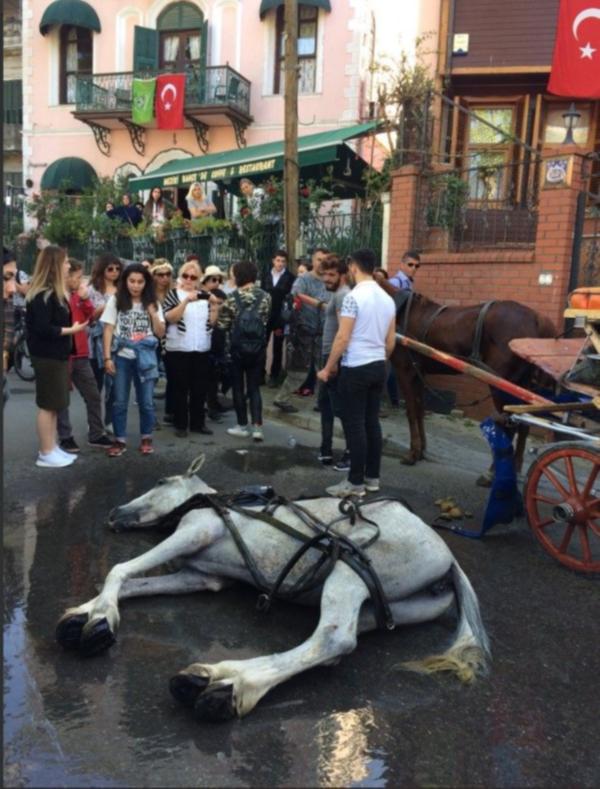 problem is Büyükada, where there are about 200 carriages. Most carriage owners have four to six horses per carriage on average, which leads to the estimate that there are between 1,000 to 1,500 horses on the islands where carriages run. There are several problems that make the care of these animals difficult: No veterinarians specializing in equine diseases are available on any of the islands. Carriage owners pay for a vet to visit twice a year for glanders screening from their own pockets. There are barns built by the İBB, which carriage owners are required to rent to house the horses, but the İBB doesn't provide veterinary services at these facilities. There is no fresh grass on the islands for the horses, which are usually fed barley bought from the city, the transportation of which is costly. These can easily be fixed with the help of the İBB. Another point activists who say the carriages should stay with better conditions for the animals note that most of the carriage drivers are uneducated, and only admit that some are downright "evil." Since there is no true oversight, most drivers often ignore seating limits for the carriages (four adults), and horses are usually undernourished both due to the expense of feeding horses on the island and carriage drivers' ignorance about horse feeding. With no real training on horses, they only copy what their fathers or grandfathers did. These issues can be addressed with strict inspections and good training programs. Why is the İBB not considering taking any steps is beyond reason, according to these activists.
Another point against getting rid of the carriages is that the İBB so far has offered no plan on what to do with the 1,000 or more horses that will no longer be needed if the carriages are removed.
Mayor Topbaş has also so far not proven to be a man of his word. He personally promised HAYTAP in February 2012 that he would find a solution to what HAYTAP calls the problem of "equine hell." To prove this, HAYTAP's YouTube channel has a video made in February 2012 where Topbaş promises a large crowd of animal rights activists at an award ceremony: "We will solve this issue," in response to a question from HAYTAP President Ahmet Kemal Şenpolat on the future of the island horses.
The İBB's dishonest and dodgy responses to official queries, its past record with law enforcement regarding the handling of stray dogs and other animals as well as its general performance regarding zoning permits seriously calls the municipality's integrity in question. As it is, there seems to be little hope for the horses, or the green spaces of the islands.
25 August 2013 /E. BARIŞ ALTINTAŞ, İSTANBUL