https://www.haytap.org/tr/deneme

Bloody Market of Petshops and Dogtraficcing (*)
Animal Health and Surveillance Act with number: 3285; not only prohibits entries of animals to Turkey unless a certificate of origin; an invoice; health certificates are presented or unless an animal is vaccinated but it also allows for killing of those animals if it deems that necessary.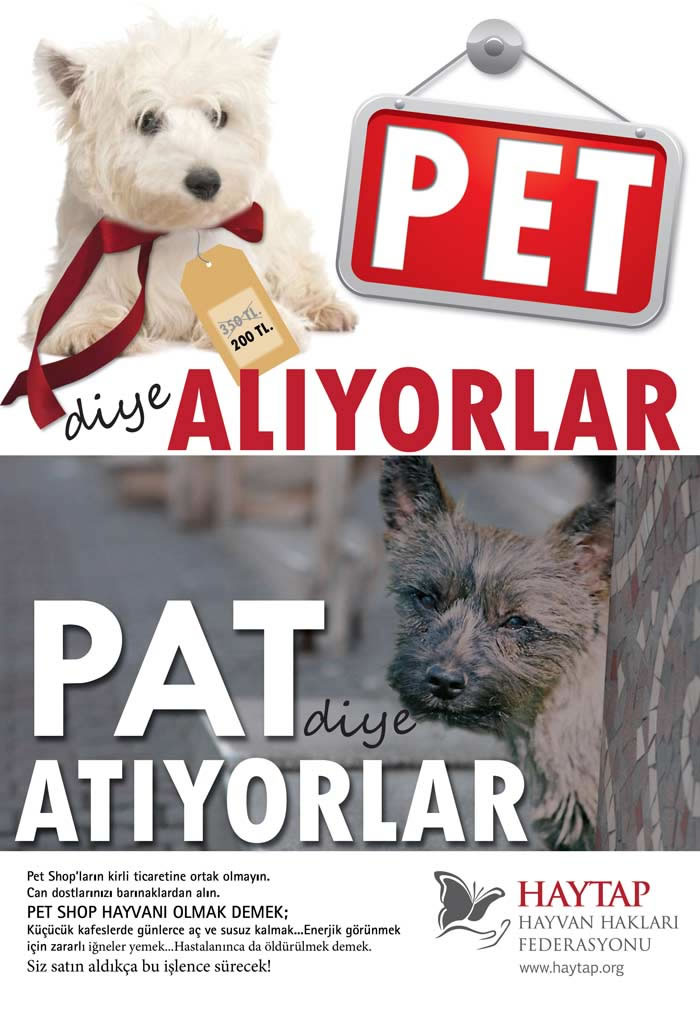 After ex-communist countires got acquainted with capitalist world and their subsequent trade relations; in recent years the citizens of the concerned countries with lower income have started to transit puppies and kittens in bags and sacks to Turkey which has constituted a major way of living.
In many developed countries (even in Turkish Republic of Northern Cyprus); you are not allowed to enter countries with as many animals as you wish which you carry within bags or cages. The rules in those countries simply aim to protect human life and to prevent possible contagious diseases among animals therefore entries have been strictly limited. However in Turkey; in recent years, such transfer of animals have been carried out at an increasing rate in the form of an illicit trade whereas penalties for those illicit acts have remained inadequate
Prevention of Smuggling Act no 5607 prohibits entries and exits of any kind of commodity to/from Turkey which are not subject to customs and duties. Specifically; transferring an illicit commodity from one place to another is punished by monetary penalties and imprisonment; as well. As Bar Commission for the Animal Rights we have brought the issue to the attention of the Undersecretariat of Customs and the Undersecretariat has taken our considerations seriously by placing warning signs on the border gates especially in Russian, Romanian and Turkish which has deterred unprofessional traders to an extent.
The court cases by public prosecutors against those who are captured on the border sites by kitten or puppies; unfortunately result in small fines since they are not deemed organized crimes. On the other hand those people concerned with no limitations or responsibilities commit that act without invoices; certificate of origin; health certificates and without having those animals adequately vaccinated. Furthermore; that crime in Turkey; in fact; is committed with the collaborators in a systematic and organized way.
The main argument of the Act with number: 5607 focuses on that point: Is the crime organized or not? This is because when the crime is not committed in an organized manner; the suspect is judged without arrest and the strictest punishment shall be a small fine. However; it is necessary to indicate that despite all our attempts we are unable to convince the public prosecutors that the crime is committed as organized together with the collaboration of major petshop suppliers. As long as that crime is taken as unorganized; the suspects are fined with small amounts. The fines on the other hand remain as ineffective since the people who are charged are not Turkish citizens; thus; return to their homelands in a shot period of time which makes the official communication of the fines; their collections and the official hearings of those concerned almost impossible.

When you consider that the act is organized and animals are entered in huge amounts; the accusations of the prosecutors should be prepared as binding on everyone who has involved in organized crime such as concerned requiring penalties with imprisonment
The issue is far beyond an individual crime or transferring one or two animals in a bag.
Specifically; the foreigners from Eastern European countries commit that crime in collaboration with the pet shop suppliers thus in an organized manner; however when captured, their acts are deemed as individual crimes and simple events. In addition to its being profitable; the demand side of that trade for specific breeds, puppies and kittens which has become popular; has increased the supply side by the increasing number of petshops each day.
The puppies which enter in the country via illicit ways (i.e. those which are imported) are sold at a high price level between $500-1500. Most of them are unfortunately abandoned or bred and later turned into ''high breed'' homeless dogs. Those animals are especially brought from Eastern European countries and submitted to the pet shops in Turkey by those lower income citizens of those countries who happen to act as couriers.
It means the cost of those puppies is $ 20-30 on average; those poor animals are entered into the country in sacks without sufficient air and are anesthetized with specific medication so that they do not make sound while passing through the customs. Some of them die on the way and the remaining puppies are sold immediately after their entries in the pet shops due to their natural charms as puppies. Their owners; on the other hand, after a short period of time start to look for new owners. However, since finding homes for those animals in our country is a difficult task, most of them are unfortunately let alone in the streets or shelters.

The puppies sold face the same conditions as the ones not sold. Therefore; the problems of homeless animals or the ones in pens result in municipalities which poison or leave animals alone in forests while public prosecutors happen to encourage illicit activities concerned by not applying the Smuggling Act adequately.

A giant St. Bernard dog living under 45 degree celcius in Marmaris whose natural habitat is Swiss Alpines is a typical example for that vicious circle. Such dogs as puppies are kept at home for fun for short period of time but with excuses due to their fur; hygiene, a pregnant wife or disturbed neighbours and so fort ; they are abandoned at dog shelters or in hot climate summer places like Antalya with the expectation that they will find food.
In order to increase the understanding of the buyers concerned and make them realize that trade is in fact a bloody marketing and with the purpose of seeing the reality and main issue behind; many web sites have been constructed and many officials have been contacted. Specifically our commission has tried to explain the severity of the issue.
This is because as long as we cannot control animal population and no amendment is done regarding Protection of Animals Act no. 5199; prison shelters, poisoning and killing of animals will prevail. The real source of the problem should be treated, i.e. the marsh should be wiped out. Otherwise the situation resembles sweeping of a floor by volunteers as a response to a leaking ceiling which is actually the efforts remaining in vain.
Since the animals bought from pet shops are separated from their mothers in their early two-three months and not adequately nursed and not even vaccinated; after short period of time subsequent to their sales; they either die or infect other animals with diseases they have imported from their motherlands.I
In case of customer complaints to pet shops general response of the sales is to offer another pet for free. As previously mentioned; since the profit margin is so high; the likelihood of incurring loss in cases of loss of animals during transfer or their deaths in narrow cages or their diseases after sale are not in the interest of those organized sellers. The profit margin ratio is at 1 to 200 or even approximates to a ratio of 1 to 500 . Since breeding animals in the county with adequate conditions is more costly, it is wiser for them to make demands from foreign countries.
On the other hand, our farmers and truck drivers who transfer animals especially at Feast of Sacrifice; are subject to audits on the roads by traffic police and fiscal investigators and are charged serious fines if they are unable to present a certificate of origin for the animals. It is so obvious that there is a double standard when strict rules being applied to animals from domestic farms are taken against the illicit activities involving pets that are perceived as 'individual cases' and tolerated more by the officials.
Another aspect of the issue is that not even the minimum living standards are maintained within the pet shops. Animals Protection Act no 5199 and the Regulation on Pets issued by Ministry of Agriculture and Rural Affairs on April 28,2000 have determined the dimensions for the cages of the animals to be kept in. Even during basic inspections; you can observe that it is impossible for many species to live in those cages when the specific features of the species are taken. The relevant authorities; however, are unable to charge the required fines due to their insufficient staff and funds.
The unsold puppies who are forced to live in cages; after 3-5 months grow up so much that they cannot fit in the cages; are made live in their own excrement .The complaints made to the provincial directorates and other relevant authorities unfortunately do not yield expected results. In practice; the only punishments are verbal warnings. The situation encourages anyone with even limited funds to engage in such a bloody marketing place in order to get a portion! According to the Regulation, anyone who attends a two or three hour seminar is given a certificate.
If the pressure on the related authorities of not only animal lovers but also any institution; association and group which respects to the right to life is maintained, both the animals in pet shops and potential animals which will be bred in the future will be effected and there will be a limitation on their population; as well. More importantly; the situation of animals waiting in glass or iron cages for sale resembles the conditions of old ages in which slavery prevailed. Unfortunately; those animals concerned are treated as commodities .They in fact should be taken as living organisms with feelings.
Whats more , when you want to take a dog abroad with you, you are only allowed to do so under specific conditions. The same should apply in our country. The conditions of the Act number: 3285 remains in vain when required and can never be an answer to that serious illicit trade. The authorities of the Ministry of Agriculture do not carry out their duties of inspection; however; are in charge of killing animals even at later hours during night in line with the related section of the Act.

The attitudes and errors in some customs and duties are definitely the reason behind that high level of the trade. You should also consider the diseases like rabies and zoonosis which may jeopardize human life, as well. This means the authorities who tolerate that bloody marketing at a gain of $10-20 threatens human health too. Let alone the tax losses of the state…The foreigners transferring animals and their collaborators at home are encouraging that trade while the specific conditions of the Regulation are not applied and the mentioned trade is not deemed as organized. This leads to an emerging market without restrictions and rules encouraged by the state itself.
Due to animals which those people breed or sell; especially in districts of Istanbul like Eminönü, Laleli , Surdibi or in commercial centers where that uncontrolled trade goes on; the careless authorities to take extra responsibilities and do not accept to deal with those puppies or kittens beside their daily routine, anyway.
Unfortunately, this trade circle has become one of the significant sectors in our country, that's to say; it has become a source of living for many people in that bloody market! It is also seen the pens will not be a solution since they have become 'death camps' for many animals. Poisoning of animals; or leaving animals in forests or sterilizations realized in a limited number which necessitate extra workload have not contributed much to the solution; either. It is essential to inform public and media that the real source of the problem should in fact be be wiped out.

Since the authorities with limited information and ignorants who show an interest the issue are unable to contribute to the solution of the matter; the severity of the issue has grown up even more.
In Europe pets can be sold only at determined places; many countries prohibit the sale of pets or severely inspect such places
On the contrary; dog shelters are packed up with abandoned high-breed animals in our country. It is hard to understand why people insist on buying puppies or kittens from pet shops instead of adopting those from dog shelters which will make them realize the cruelty of the human kind and give them a feeling of mercy and charity. The biggest dilemma is the society's conception of those who try to improve the conditions of the animals in pet shops and shelters as mentally-ill and withdrawn people.
A real animal-lover is expected to adopt an animal from the shelters- actually; buying a pet from a pet shop is unacceptable in that sense. If parents feel obliged to buy pets from those shops with the fear of hurting their children's feelings, it would be wiser to take them to pens and see the horrible situation going on. Showing affection to the animals in those shelters will certainly decrease the demand for the pets in the shops. You should realize the fact that more than 60% of the animals bought from the shops are later either abandoned in the streets and shelters or they die after their sales. It is impossible for sold puppies and kittens to survive in the streets of huge cities, which offer limited space even for the people. The authorities trying to kill those homeless are another aspect of the cruelty.
That is the real situation in Turkey which people are unable to see. The biggest step to solve the tragedy of homeless animals and the ones in dog shelters would be the increasing role and responsibility of the state taking the matter into consideration. Actually,the state should act sincerely.
Unless required steps are taken by considering the previously mentioned issues, in Turkey the current errors in pet shops; the reality of pet shops and the bloody marketing via those poor animals will unfortunately prevail.
Attorney-at-Law
President of HAYTAP
Bu yazının türkçe metni için tıklayınız.